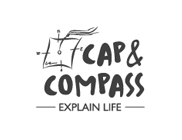 "Education is part of our mission.
Our gift should reflect that."
Peek Inside
Topics
Full of humor and good advice, the book explains all the
Life 101 topics rarely taught in school:
dinner etiquette

travel insurance

investing

happiness

401(k)s

mortgages

buying vs. leasing a car

HMOs and PPOs

sassy words like "deductions"

alumni giving

remote work

taxes

auto insurance

apartment leases

LGBTQ

credit

and much more...
Request your free sample copy of our book to review for your organization.
FAQ
What's new in The Graduate's Almanac?
Lots! Read all about our new book for the '20-'21 year.
Why is it titled The Graduate's Almanac?
One definition of an almanac is "a handbook, typically published annually, containing information of general interest." The name is unique and describes our content well.
You can change the title if you customize the book.
How often do you update your books?
We usually make minor edits (e.g., pop-culture references) every two to three years. Most of the content is timeless. The book was last updated in late 2020.
Can I get a sample copy to review?
Yes, request your free copy.