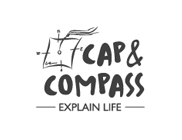 "We'd like to know more about Cap & Compass."
Since 2001, Cap & Compass has earned the business of hundreds of colleges, companies and membership-based organizations. Our customers have a common mission to educate and a common desire to connect to their alumni, employees or members.
The company was founded by two Duke University graduates, who recognized a gap between the subjects learned in the classroom and the challenges faced in the real world.
After figuring out how to explain boring topics (like health insurance and taxes) in an fun way, we created the book, The Graduate's Almanac.
Learn more about the Cap & Compass story in our blog.
Contact Us
Mailing address

Cap & Compass
527 Homestead St
Lafayette, CO 80026


Meet Us